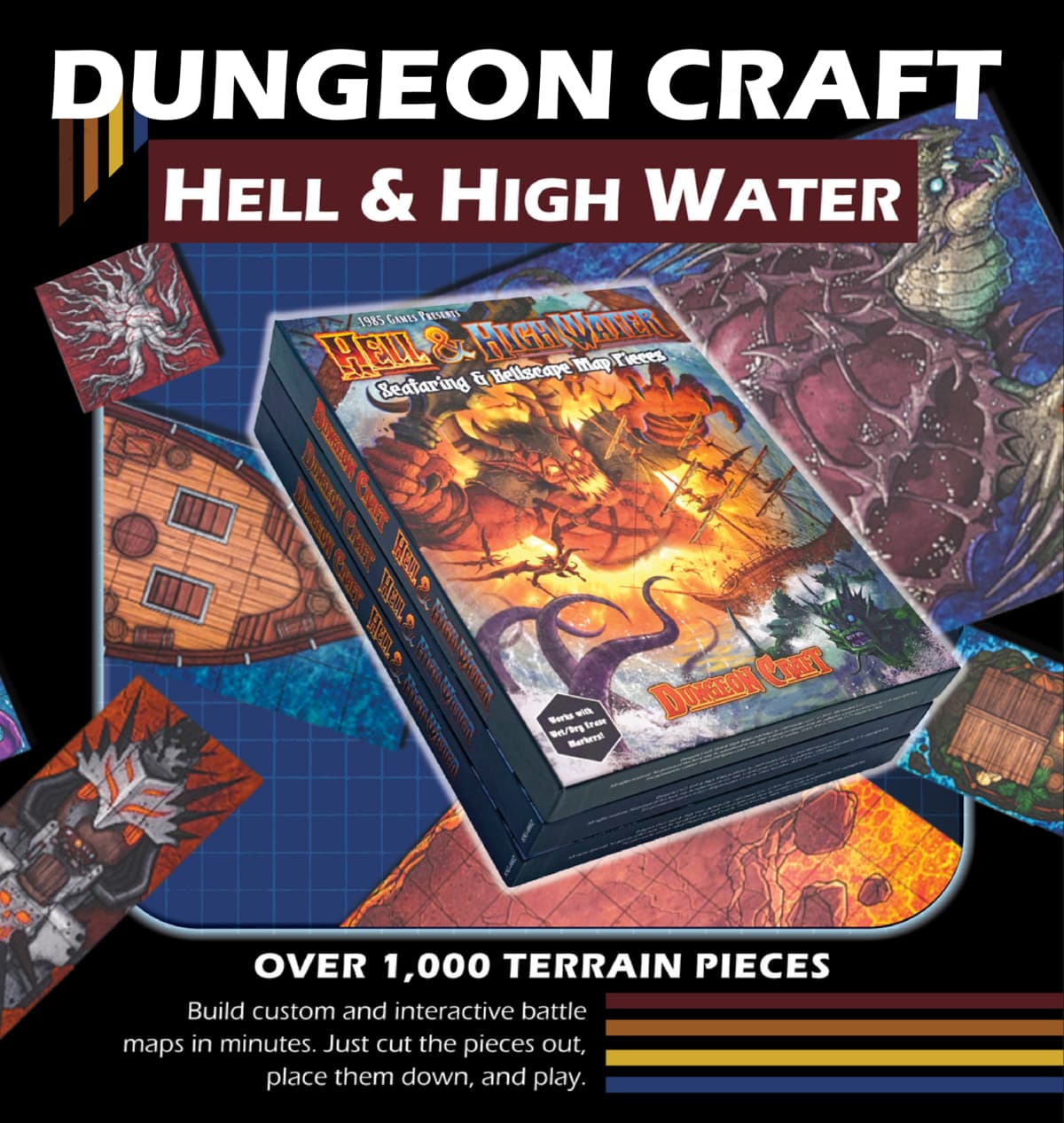 This hit my inbox from 1985 Games last night. I am a theater of the mind guy, myself, but for the battle map users out there, this seems like a really good deal, especially since you can combine it with my coupon code, "HexedPress," to save an additional 10% (don't know how they do the maths on that but still!) The flash sale is only through Friday so, if you're interested, don't wait too long…
From the website:
Whether you're trying to traverse the seas, or navigate the depths of hell, the Hell & High Water book has everything you need to bring your adventure to life! This book contains 880 carefully designed terrain pieces, monsters, and humanoids.

Explore the seas with 20 different boats to help you set sail. You can float around in a dingy, or control the seas with your own flotilla! Complete with docks, islands, and coral reefs, you can move seamlessly from land to sea, ready to encounter anything. As you traverse the water you can shock and amaze your players with whirlpools, sunken shipwrecks, and deadly sharks. If your players are truly lucky, you may even grace them with a Dragon Turtle to fight!

On the other side of our specially designed reversible pieces, Hell awaits. Burning with sinister inhabitants and war-filled weaponry, you'll find battlefields littered with death and destruction. Your players can navigate the depths of hell on giant siege engines and soul-powered helicopters, designed especially for these broken landscapes. When they arrive at the rivers of lava, there are even bone rafts ready to help them sail through the molten terrain.

Fully compatible with Hell and Ocean Map Packs!

Endless environments with a simple snip & flip!

Pieces can be cut out and placed on any battle map with a one-inch grid. The pages are durable cardstock with a laminate coating to make the pages water-resistant and dry/wet-erase.